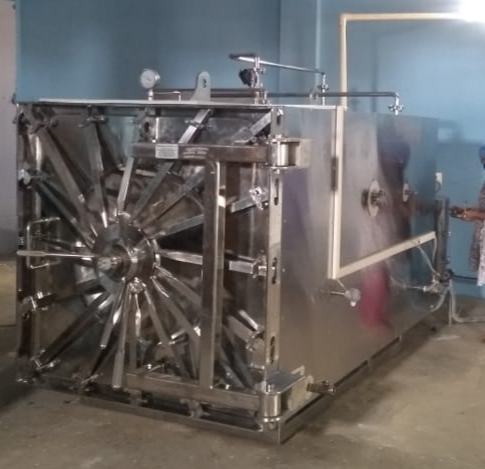 Industrial ETO Sterilizer Machine
Sterility Equipment Pvt Ltd has become a leading manufacturer of Industrial ETO Sterilizer Machine for Life Science, Medical Device, Tissue Banks, Test Labs, PPE KITS, and Herbal & Spices. The company is based in Ahmedabad, Gujarat. The company's most superior specification is offer work without risk of failure. Combining with Indian quality manufacturing, our designs are original & provide a top-quality finishing and long-lasting life. Additionally our chambers are mainly stainless steel based built.
ETO Machine Chamber and Automation Features
During the Sterilization process, the screen on the machine's control panel indicates the phases specifically.
Depending on the customer's requirement the ETO Machine's chamber with Single Door or Double Door is designed.
Aeration System ensures the reduction of the EO gas exposure towards the operator.
Different phases like exposure, vacuum, aerating & sterilizing help in the progression of cycles automatically.
The design of the ETO chamber supports positive & negative pressure.
A detailed report in addition to the graph gets stored in the Pen Drive.
To assure accurate and consistent performance of vacuum, RH Exposure/ Aeration time, chamber temperature, etc., the ETO Control System is used.
The sterilizer can only be started with a complete draw out of vacuum.
For the prevention of any possible leakage, a leak test function is conducted.
Proper RH (Humidity) is compulsorily provided for each model Steam Generator.
High-quality stainless steel is used for the construction of the doors & internal chamber.
Models of Industrial ETO chamber's with Fully Automatic control panel.
 

SEIPL

Capacity

In CBM

Size in Feet

H X W X L

EO Gas Cylinder (20-80)

EO Gas Cylinder (90-10)

EO45CFT

1.27

3 X 3 X 5

4KGS (Per/Batch)

3KGS (Per/Batch)

EO96CFT

2.71

4 X 4 X 6

5KGS (Per/Batch)

4KGS (Per/Batch)

EO128CFT

3.62

4 X 4 X 8

6KGS (Per/Batch)

4KGS (Per/Batch)

EO200CFT

5.66

5 X 4 X 10

8KGS (Per/Batch)

6KGS (Per/Batch)

EO250CFT

7.00

5 X 5 X 10

9KGS (Per/Batch)

7KGS (Per/Batch)

EO300CFT

8.49

5 X 5 X 12

10KGS (Per/Batch)

8KGS (Per/Batch)

EO375CFT

10.61

5 X 5 X 15

12KGS (Per/Batch)

9KGS (Per/Batch)

EO432CFT

12.23

6 X 6 X 12

14KGS (Per/Batch)

   11KGS (Per/Batch)

EO540CFT

15.29

6 X 6 X 15

15KGS (Per/Batch)

   13KGS (Per/Batch)

EO720CFT

20.38

6 X 6 X 20

18KGS (Per/Batch)

   16KGS (Per/Batch)

ETO Machine Chamber Are being built in Fully Stainless Steel Plate

ETO Machine Chamber Are being built in Mild Steel to Stainless Steel Plate