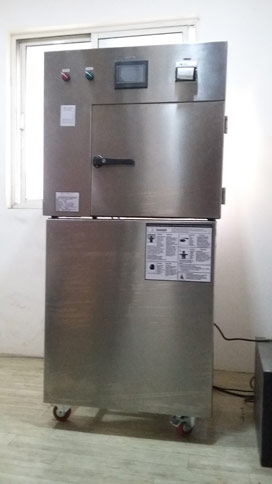 Sterility Equipment India Private Limited has established as a leading manufacturer of EO Sterilizers for Hospitals and Medical Colleges. The company is based in Ahmedabad, Gujarat. The company's most superior specification is to offer work without risk of failure. Our original design, combined to Indian quality manufacturing, gives to our sterilizer machines a top finish feature and long lasting life. Our chambers are built around stainless steel.
Table Top ETO Sterilizer is been used for ETO sterilization in order to reduce the level of infectious agents. Table Top ETO Sterilizer is widely been used and has a good demand for ETO Sterilizer. ETO Sterilizer is used in the form of gas and mixed with other substances generally CO2 or steam. This ETO Sterilizer is consists of four primary variables that includes gas concentration, humidity, temperature and time. There are three main processes with ETO Sterilization that includes pre-conditioning, sterilization, aeration. As ETO Sterilizers are been known for a safe and sterile product we offer reliable Table Top ETO Sterilizer with latest technological advances in the industry.
The table top ETO Sterilizer by Sterility Equipment India Private Limited is been designed uniquely with its outstanding features. This ETO sterilizer provides effective and safe sterilization process under low temperatures. They are mostly used in hospitals, research centers, labs and other pharmaceutical applications.
Models for Table Top ETO Sterilizers
| SEL Series | Liter Capacity | Size in CM | Model Available | EO Gas Cartridges | Size in Feet |
| --- | --- | --- | --- | --- | --- |
| EO Series SEL 50 | 50Ltr | 30 X 30 X 61 | Stainless Steel / MS Powder Coated | 40 GM | 1 X 1 X 2 |
| EO Series SEL 60 | 60Ltr | 30 X 30 X 79 | Stainless Steel / MS Powder Coated | 40 GM | 1 X 1 X 2.6 |
| EO Series SEL 85 | 85 Ltr | 30 X 30 X 91 | Stainless Steel / MS Powder Coated | 40 GM | 1 X 1 X 3 |
Table Top Sterilizer Features
Cycle progresses automatically through vacuum, exposure, sterilizing, and aerating phases.
Screen on the control panel of the machine indicate specific phases during the operation of sterilization process.
Negative chamber pressure ensures that gas cannot escape into operating area.
Control system provides strict control of vacuum, chamber temperature, exposure / aeration time etc. to assure consistent and accurate performance
A leak test function takes a prevision of any leakage possibility and the sterilizer can be started only when the vacuum is completely drawn.
The construction of chamber and cabinet are made of high quality stainless steel.
Aeration system in the machine reduces the potential for operator exposure to EO gas.
The Automation Hardware used in the machine: PLC (CE approved, CLASS 1 DIV2 Groups ABCD)
Warranty: 24 months from the date of installation and commissioning is being done from our end.
Table Top Sterilizers are used to Sterilize…
Plastic products (Used for Medical and Surgical Procedures)
Devices that incorporate electronic components.
Materials that get damaged at higher temperatures.
Materials those are not compatible with other methods such as Steam sterilization.
These Sterilizers are supplied to the hospitals, clinics and health centers with 3 core cord together with a 3- pin plug for use on 220 / 250 W, Single phase AC. The range is easy to install and does not acquire maintenance charges. In order to suit the diversified needs of the clients, we offer our range in various technical specifications. As per the ISO 11135 Standards below shown table is the Limitation for (EO Residue) per/ device.
EO Residue
Ethylene Oxide : NMT 4mg/device
Ethylene Glycol: NMT 9 mg/device
Ethylene Chlorohydrin: NMT 9 mg/device