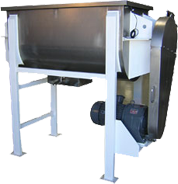 Ribbon Blender are having 'U' Shape trough and shaft and hub system in horizontal axis incorporating agitator consisting of out and inner spiral ribbons supported on arms running throughout length of blender.
This ribbon arrangement provides radial and axial mixing action covering full volume and at the time of discharging pushes out from trough for discharge. This blender is used for efficient and homogeneous mixing of different ingredients and formulations. Available in various specifications as per the requirements of the clients and is highly efficient to blend various material in a fast and efficient manner in pharmaceutical as well as other allied industries. Offered Horizontal Ribbon Blender is manufactured using supreme class raw-material and cutting edge technology under the guidance of our skilled professionals.
Our ribbon blender provides triple mixing action that ensures fast efficient blending. Along with this, the material been mixed in container uniformly gets mixed avoiding dead spots & easily discharges the product. Ribbon blender combines solids & blending the mixer with different process that makes it a unique blending machine
Ribbon Blender Features
High efficiency
Safe and hassle free operation
Sturdy construction
High durability
The application of Ribbon Blender finds in following fields
Mineral & Others, Insecticides / Pesticides, Metal Separation, Fertilizers, Pigments Colors, Dyestuffs and Chemical products.