Sterility Equipment (India) Pvt Ltd manufactures different devices that are most widely been used in pharmaceutical & medical industries as well as in laboratories. Our range of devices includes table top ETO sterilizer, fully automatic ETO sterilizer & ribbon blender. Not only in industries, but we have also established a good position as ETO sterilizer manufacturer for medical colleges as well. The hospital sterilizer has been offered by us are of high quality with excellent features with long life durability.
ETO Sterilizer
In most of the industries manufacturing medical devices, sterilization is one of the important factors to be considered in terms of healthcare. Hence, ETO sterilizer or hospital sterilizer is been used for the process of sterilization of healthcare instruments and devices. There is a sealed chamber present where the products are been exposed to ethylene oxide gas under a vacuum. One of the main aims of using hospital sterilizers for such type of devices is a sterile and safe product is been delivered in the market every time. The equipment or the device goes under the process of ethylene oxide sterilization i.e. a chemical process that includes variables namely as temperature, time, humidity & gas concentration. Hence, the sterilization process takes place.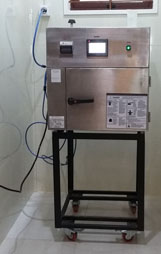 Table Top ETO Sterilizer
Another type of design used for sterilizing medical devices or equipment is the table top ETO sterilizer. The table top ETO sterilizer is been uniquely designed for the devices that are sensitive to heat as well as moisture. It offers to sterilize equipment at low temperatures and is also cost-effective. It is been specially been designed for industries like laboratories, research centers, etc. who require sterilization at low temperatures. For the process of high-quality sterilization, we at Sterility Equipment (India) Pvt Ltd use 100% pure Ethylene Oxide & is also one of the best-proven methods of low-temperature sterilization.
Ribbon Blender
For the fast & efficient blending of materials, we offer a ribbon blender for various industries. In pharmaceutical and other industries, it is widely been used for the homogenous mixing of formulations and ingredients. The ribbon blender consists of 'U' shaped trough and shaft along with spiral ribbons. The process of mixing takes place by rotation in linear and radial motion that is supported by the ribbon mixer. With the help of triple mixing action, the high-quality blending of materials is been achieved.
Fully Automatic & Industrial ETO Sterilizer Machines
The hospital sterilizers are further available for industrial requirements also. These EO sterilizers are capable of working for a longer duration as compared to other regular ETO sterilizer machines. They can also be categorized into fully automatic ETO sterilizers and industrial ETO sterilizers. As the name suggests, the fully automatic ETO sterilizers are completely automated beginning from the preconditioning process to the aeration process followed by sterilization. Thereby making the process easier & faster. Considering industrial ETO sterilizer machines, they have most opted in research centers as well as big hospitals due to their comparatively bigger needs than normal hospitals & labs.
Conclusion
The above-stated machines are widely been used in different industries that give the efficiency of the products. Sterility Equipment (India) Pvt Ltd is one of the best manufacturers & exporter in machines like hospital sterilizer, table top ETO sterilizer, and ribbon blender. Our products give one of the best sterilization solutions for equipment and products to a wide range of industries.