Among the sterilization technologies available today, Ethylene oxide sterilization is one of the most common sterilization processes used for medical devices. It is a cold sterilization process which is compatible with different types of materials used in the production of medical instruments, such as metal, glass, polymers and plastics. Automatic ETO Sterilizer is very effective because it works by alkylation with the DNA of microorganisms. If all the variables are evaluated through rigorous process design and development, an effective EtO process can be designed for almost all types of medical devices.
What Is Ethylene Oxide Sterilization?
Ethylene oxide sterilization is a chemical process which has four primary variables: gasoline concentration, humidity, temperature and time. EO is alkylation operators that disturb the genetic material of microorganisms, which prevents cell generation.
The Ethylene Oxide Sterilization Process
ETO Sterilization is a low temperature process that uses Ethylene Oxide gas for the sterilization of devices. The ethylene oxide sterilization process has three processing stages.
Preconditioning: In this stage, the chamber environment is prepared to meet the ideal temperature, humidity and pressure for stimulating the passive microorganisms and bacteria come into the active state.
Sterilization: In this stage, actual sterilization is performed with process phases designed to achieve the required level of ETO exposure for sterilization.
Aeration: In this stage, remaining ETO gas is removed using changes of air in the chamber. It allows absorbed gas to evaporate from the sterilized devices.
Key Parameters of Ethylene Oxide Sterilizer (EO Sterilizers)
Gas concentration
Chamber temperature
Relative humidity
Exposure time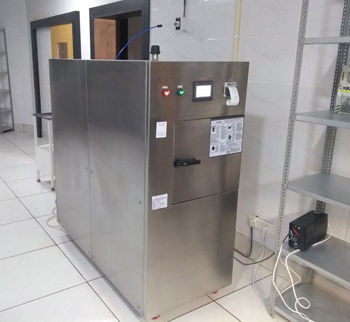 Increasing Demand of ETO Sterilizer (ETO Sterilization Machine)
The sterilization equipment market has experienced significant growth in recent time because of increasing demand for Hospital Sterilizers, also known as EO Sterilizers for hospitals. Based on its usage, the sterilization equipment industry is classified into hospitals & clinics, medical device companies, pharmaceutical companies, the food and beverage industry, and other end users. The hospitals & clinic segment is giving the largest market share. As a result, it is a prime focus area for Industrial ETO Sterilizer manufacturer & exporters.  One of the very important factors for the increasing demand of ETO Sterilizers is increasing preference of contract sterilization services by medical equipment producers and increasing outsourcing to expert third party vendors for reducing in-house costs related to sterilization.
The growing number of hospitals and increasing number of surgical procedures are contributing to the increase in demand for Ethylene Oxide Gas Sterilizers, which is resulting in growth opportunities for every ETO sterilizer manufacturer & exporter. Moreover, constantly increasing trend of outsourcing the sterilization processes for reducing health care costs are increasing the demand for EO sterilizes Medical device & Instruments. As a result of continuous technological advancements in the medical equipment industry and innovation by leading Ethylene Oxide Gas Sterilizers manufacturers & exporters, the industry is expected to witness the growth in future as well.