In this article we explore some recent trends regarding the demand and supply of ETO sterilizers in the Canadian market. And the need of sterilization in different industries.
Why is ETO Sterilizer Required for Sterilizing Medical Devices?
Sterilization is an important part of the manufacturing process of medical devices. Properly sterilized devices reduce the risk of infection and prolong hospital stays. The FDA encourages innovative ways to sterilize medical devices, which can lead to less environmental impact and lower the risk of public health.
Medical device sterilization is an essential step in maintaining patient safety. Incorrect sterilisation can lead to IV antibiotics, surgical removal of devices, and prolonged hospitalization.
New technologies for sterilization equipment are being developed to improve the speed of the process.
Sterilization is a very value-added part of the manufacturing process. The industry has enjoyed phenomenal growth over the past two decades. Manufacturers of medical devices have smaller volumes and require more specialized processes. With more than half of all medical devices being sterilized using EO. Ethylene oxide sterilizer is a powerful cleaning agent used to sterilize medical devices.
What is the Growth of Sterilization Equipment Market in Canada?
The Canada market of sterilization equipment is expected to grow at a growth rate (CAGR) of 5.7% from 2023 to 2024. Increasing health concerns and the rising number of cases of illness are driving the market, as are technological advancements. By 2032, the sterilization equipment market is estimated to reach US$ 850 million. This will be driven by the increasing focus on safety, and prevention of diseases.
Key player in the sterilization equipment market Sterility Equipment India Private Limited. Our company offers a wide range of sterilization equipment and consulting services to support customers operating sterilization processes in-house.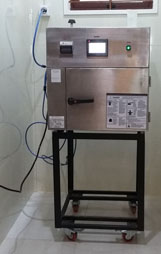 Among the processes offered by different other companies, heat sterilisation is expected to remain a lucrative segment over the assessment period. It is used to ensure long-term shelf stability for high-moisture foods. Moreover, it is also an inexpensive capital investment.
Another segment that is expected to gain traction is seasoning and herbs. Many food manufacturers use spices and herbs in their products. Therefore, these companies are enhancing the sterilisation process to enhance the product's quality and safety. However, the market is largely dependent on the regulatory standards for food production. Hence, adherence to these guidelines is crucial for the companies to operate in a safe and ethical manner.
A growing consumer awareness about health safety is also contributing to the growth of the Canada market for sterilizers.
The Bottom Line
If you are looking for a hospital sterilizer for Canada market, contact Sterility Equipment India Private Limited, a leading global medical technology company that manufactures products and solutions for the health care industry. We are headquartered in Ahmedabad. Our company exports worldwide, and we offer a wide range of products for hospitals, life science institutions, and pharmaceutical industries. We started our journey in 2014 in Gujarat, and we offer different types of ETO sterilizers for medical equipment.