List of Top 8 Questions About Hospital Steriliser
1. What is a hospital Steriliser and what are its uses?
A hospital Steriliser is the equipment used in hospitals and medical care where complete elimination and destruction of all forms of microbial life is accomplished so that the medical and surgical instruments do not transmit infectious pathogens to patients. The role of a hospital sterilizer is very critical in modern medical care as patients and the hospital comes in contact with surgical instruments day in and day out. They are used in hospitals and medicare facilities. They are effective in sterilizing medical instruments and materials used in everyday surgeries, procedures, and patient services.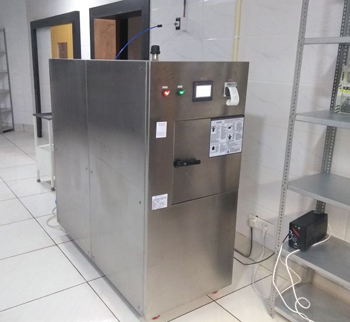 2. What are the benefits of a Hospital Steriliser?
Hospital Sterilisers are very important to avoid health-associated infections( HAI) amongst the patients as well as the staff. Its benefits include-
Eliminating the scope of pus, blood, and foreign particles could lead to hazardous complications for the next patient if an instrument is used interchangeably without precautions.
The breeding ground for any kind of surviving germs is eliminated.
Hospitals use precision tools and expensive instruments and using a hospital sterilizer ensures that they are preserved well and last longer while being used safely.
Any kind of bioburden is decreased which indicates that the non-sterilized bacteria does not live on the surface anymore.
Most clinical equipment used in hospitals is reusable and needs to be disinfected efficiently and the hospital sterilizer prevents any break out of infections.
3. What are the important tips to be taken care of while handling a hospital sterilizer?
Cleaning- Any sterilization involves cleaning before performing any level of sterilization
Disinfecting- This step can involve liquid chemicals to kill any spore-forming bacteria
Sterilizing- There are several methods used for sterilization and the hospital sterilizer is highly effective, environmentally friendly, and user friendly. Depending on the need, medium sterilizers or large autoclaves may be used.
4. What are the risks of not using a proper hospital sterilizer?
Not meeting the safety criteria could lead to disastrous consequences like-
Spread of infections- If any unidentified substances remain on the equipment and surgical instruments it can heighten the infection by exposing body parts to the bacteria
Spreading of Diseases- If the hospital equipment is not sterilized well the spread of disease can be high. In Covid's situation, the spread is witnessed harnessing the lives of many citizens globally, and using an improper sterilization method can be harmful.
5. What is autoclaving and how is it used in hospitals?
Autoclaving is popularly also called steam sterilization and pressurized steam is used to kill any infectious agents and denature proteins. It is a very dependable method and can kill any fungi, spores viruses, and bacteria. The autoclave delivers pressure and allows the steam to flow around the items in the chamber. The length of time and temperature necessary for sterilization depends on the items to be sterilized and whether they are wrapped or left directly exposed to the steam.
6. What are the different types of hospital sterilization available and which one is preferred the most?
The primary methods of sterilization of hospitals occur from high temperature, pressure, and chemical processes. There are vapourised hydrogen peroxide sterilizers, plasma gas sterilizers, and autoclaves that circulate steam. Radiation methods and chemical methods are also available for sterilization purposes. Autoclaves are one of the most economical methods of sterilization, while still having a short cycle time.
7. Is there a difference between Sterilisation and disinfection?
Disinfection is the elimination of pathogenic microorganisms and does not work on spores. Sterilization is the elimination, removal, killing, and deactivating of all forms of life and biological agents seen in a specified region. There are disinfecting agents like Phenol, alcohol, chlorine, and iodine but sterilization involves techniques like high temperatures, steam, radiation, and filtration.
8. How do hospital sterilizers cater to large volumes?
The size of the sterilizer will vary based on the capacity needed for the area where the autoclave needs to be sued. There are large autoclave automatic machines available in hospitals which are double full jacketed square chambers designed to cover a large field of applications for hospital central processing departments, as well as pharmaceutical and biotechnological industries. They are made out of stainless steel and have advanced insulation technology catering to large volumes with high energy efficiency.